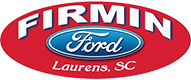 Customer Reviews
The service department is always the best. I put complete trust in the work.
Nice Friendly Staff. My wife went this trip, and had nothing but positive things to say.
No nonsense, no pressure. I walked in and asked two questions. How much is your dealer fee, and can you beat someone else's deal. I gave them a sample window sticker of the vehicle I wanted. Deal done.
I am absolutely and completely satisfied with my experience!!! From the immediate follow-up phone call response generated from my email inquiry to the QUALITY service received from Matthew and the service department Team!! Just when you thin customer service is a dieing breed, service such as the service received at Firmin reminds me that it is not!!! Thank you!!
The Service Manager (Tim) was more than helpful and exceeded my expectations during my truck repair. He and all the technicians that worked on my truck went the extra mile inspecting the vehicle for problems.
The salesman was extremely knowledgeable of all the vehicles we asked about. He went above and beyond to make sure that we got the car we wanted! We felt welcomed and at home during the entire experience. I am satisfied with the service we received as well. The salesman was able to answer all of our questions and I've been back several times to ask more questions. He's always able to answer the questions and does so willingly.



I have been driving Fords for the past 50 years and have dealt with different dealerships. When I purchased this Escape I was promised good, reliable service and that is what Firmin delivered. I am pleased.



Throttle recall appt quickly scheduled (offered next day but I choose Monday instead) and car was taken back right on time. Waiting room clean, and comfortable, and convenient. Estimated repair time was 1 hour, with car finished in about 30 minutes. Car was returned clean without any adjustments having been made to my seat or radio or other personalized features. Very pleasant experience! Thanks!



Firmin Ford puts the customer first. We were made to feel welcome in the dealership. The staff at Firmin Ford were excited as we were to be buying a new car. Justin went over all of the paperwork very well. He took the time to show us everything we needed to know about our car. All of this was done with regards to our time. Thank you.



Excellent experience! Sally Byers is a great salesperson. She and Jeff Owings made my purchase an easy one. I am truly satisfied with Firmin Ford.



I love Firmin Ford. I have purchased at least 4 cars from them. I love all the sales people and the management team. I have and always will recommend Firmin Ford!



I've become known at Firmin Ford, in every department. My first car was a Ford. Now I have a whole TEAM helping me get from point A to where ever point B is. So the service team knows I'll be there on time for my service checks or if anything is wrong. William did a good job, with all of Firmin's TEAMS helping out. I think you should give them all a raise!



Took the time to explain the car and very friendly sales people.



Great service and the people are friendly.



I was more than pleased with my first experience with Firmin Ford. It pays to shop local !!! This was my first time buying a new car and I bought it on my own thanks to the help of the fine salespersons at Firmin Ford !!! I will definitely recommend them to others and will shop there again in the future. My car is AWESOME!!!! Thanks for everything !!!



I have been quite impressed with the service I have received at Firmin Ford.



Great - the usual customer service we always receive from Jim Firmin and his entire staff.



Sally Byers did a superb job making sure that all of my questions were answered and worked hard to get our payment in our budget. I have known the Sales Manager, Bob Byers, there for years. I have purchased from Firmin in the past and will continue to return in the future for our car needs. Also, the Finance Manager was very helpful and nice, and probably overlooked as being recognized. I like that Firmin Ford is a small-town business who provides class act service!



Sales staff worked diligently to earn my business and were committed to showing me all options that fit my needs.



William is a wonderful salesman. Everyone there was so nice. I am pleased with Firmin Ford.



I enjoyed the service I got at Firmin. Sally was very nice and able to make this purchase fun for me. Will definitely go back if I need another car.
I enjoyed Mr. William Hill working w/ me on this purchase. everybody that sees this truck just falls in love w/ it. Great job Ford Motor Co.
No improvements needed. Everything went very smooth and Mr. Hill was extremely knowledgeable and answered all my questions with the upmost clarity.
I had no issues during my experience.
Making the deal went well!
No problems. All went well.
Salesman was able to find the exact model and options that I was looking for. Very helpful.
This was a competitive bids process. I appreciate the quick response to our solicitation and am happy that we could purchase one of the vehicles that was offered.
EVERYTHING went so smoothly! I don't know how anything could have been improved.
Everyone was great.  I was desperately needing a car.  Steve Lynch and Sally Byers are great people to work with and Matt and Jim Firmin were excellent.  We will always buy our automobiles from Firmin.
Ease of purchase was great. From a sales  perspective, they did everything right. For a  small town dealer they have a decent  showroom.

Good experience, no problems
Be closer to where I live lol
Bob Pace was my sales person and did an outstanding job! Best sales experience ever!
He was very courteous and helpful and not pushy